Social Anxiety Disorder may oftentimes be dismissed as a minor ailment that one is expected to "grow out of". However, untreated, it can quickly evolve into more severe mental health issues such as panic disorders, eating disorders, and major depressive disorders.
Today, 15 million Americans over the age of 18 suffer from social anxiety disorder. While it is highly treatable with cognitive behavioral therapy, only a third of those afflicted actually seek treatment. When one considers the root cause of this phobia, it becomes clear that the symptoms of the disorder itself is preventing people from seeking help.
How can we stop this debilitating cycle of anxiety? How can we make simple treatments more easily accessible so we can proactively prevent further deterioration of mental health? Most importantly, how can we improve the quality of life of those who suffer most?
Here's what I wanT TO DO...
Providing an easily accessible tool for social anxiety management will help people build healthier rethinking habits, thus helping them feel more in control of their lives and preventing escalation of mental health disorders.
Talking to People
I kicked off my project with some informal interviews with young adults who suffer from moderate to severe social anxiety. I needed to understand the extent to which this disorder can affect different aspects of one's life. I know that each individual has their unique triggers and their own ways of processing fear, so I asked various questions around the following topics:
Where are you when you experience the most anxiety?

What are the symptoms? What physical and mental state do you define as the feelings of social anxiety?

How do these symptoms directly affect your day-to-day life.

What kinds of methods or tools do you use to cope with anxiety?
After 4 of these sessions, I was able to gather the following valuable insights:
In a stressful situation, people need the space and time to refocus and feel more grounded—whether that's going to the restroom or looking at their phone.
People find it difficult to take control of their thoughts, so they will try to control external factors— practicing conversations beforehand, planning an exit strategy, scouting a safe space they can retreat to, deciding when and how much they want to socialize, etc
People KNOW that their irrational thoughts prevent them from fully enjoying life. They want to challenge themselves beyond their comfort zone but find it difficult to maintain control of their emotional state.
Seeing what's out there
Competitively, the mental wellness market seemed to be missing something. Many of the most popular applications focus on guided meditations and journaling, which are much more reactive approaches to relieving general stress. The more treatment focused apps require users to talk with behavioral coaches— but what about those who have such severe anxiety that this isn't an option for them? Where can we find a tool that is more than a band-aid for social anxiety, yet gentle enough that it seamlessly eases people into better thinking habits?
I compiled my notes from the interviews to create a quick primary proto-persona. Say hi to Vivian! Vivian will help me make decisions and guide me along the process.
Now that I've collected sufficient information on the Who, What, Where, and When, I wanted to answer the How. How can I make something that will be engaging, useful, seamless, delightful, and most importantly, helpful? I compiled a set of principles, based off of Vivian's behaviors, to make sure the experience and design stay on track as I enter craft-mode.
USe it anywhere
Vivian can depend on this tool anywhere. Vivian shouldn't feel self-conscious to be using this tool in public places. She knows that healthy thinking must be practiced anytime, anywhere, so feeling comfortable using this tool at any point in her day will encourage practicing better habits.
Safe Space
Vivian should feel that this tool is a safe space that she can retreat to when anxiety has her cornered. It's not a physical space, but it will provide her with the necessary mental space.
Actionable help
The tools provided must be helpful and actionable. The core piece that powers this tool will be based on cognitive behavioral therapy methods that are proven to be effective. Each time Vivian uses this tool, she will have an insightful and helpful experience.
Seamless
Vivian won't feel like this tool is a burden or chore— it must be lightweight enough to seamlessly become an everyday essential. It's features must all feel interconnected and unobtrusive to create the smoothest experience possible.
SMile!
Vivian is going to smile when she uses this tool. Her experience will always be delightful and calming.
So here's what I'm trying to solve...
How might we make it easier for Vivian to discretely manage her anxiety anywhere, at anytime to develop better rethinking habits.
Vivian's Tasks
The accessibility of this app is a key priority, so I approached the problem as a disguised chat app. I focused on two main tasks for the user to complete:
Starting a conversation and going through the Realistic Thinking Exercise
Reflecting on a conversation and going through the Reflection Exercise
Architecture
There was some confusion with taxonomy, so I created a quick map to show how the key features of the app existed in relation to each other. This map also includes potential future features.
Testing
After testing the prototype with 4 users, I gathered the following key insights:
Users like the idea of a rethinking exercise disguised as a chat.
Sometimes, when I'm alone and uncomfortable, I'll just open Slack on my phone and tap around, even if no one is messaging me.
Users love Turtle!

Users are confused by the "Edit" feature for the messages they send to Turtle. There needs to be better communication that, once saved, the responses cannot be edited.

The deep breathing exercised needs to have a time limit.
How do I know when I'm done with this breathing screen? Like, what is enough breaths? Does it just keep going forever? I feel like my avoidant personality will just keep me staring at that screen...
Once in Reflect mode, the default view is the Chat tab (you can view the chat you had with Turtle), so people seem to miss the Reflect tab.
Users like that they are not required to answer all the reflecting questions.
Flow 1
Beginning your first Chat with Turtle, answering the 11 rethinking questions, and going through a deep breathing exercise:
Flow 2
Selecting your saved Chat and going through the Reflect exercise. you can rate you anxiety, identify thinking traps, and answer questions to help you understand your anxiety: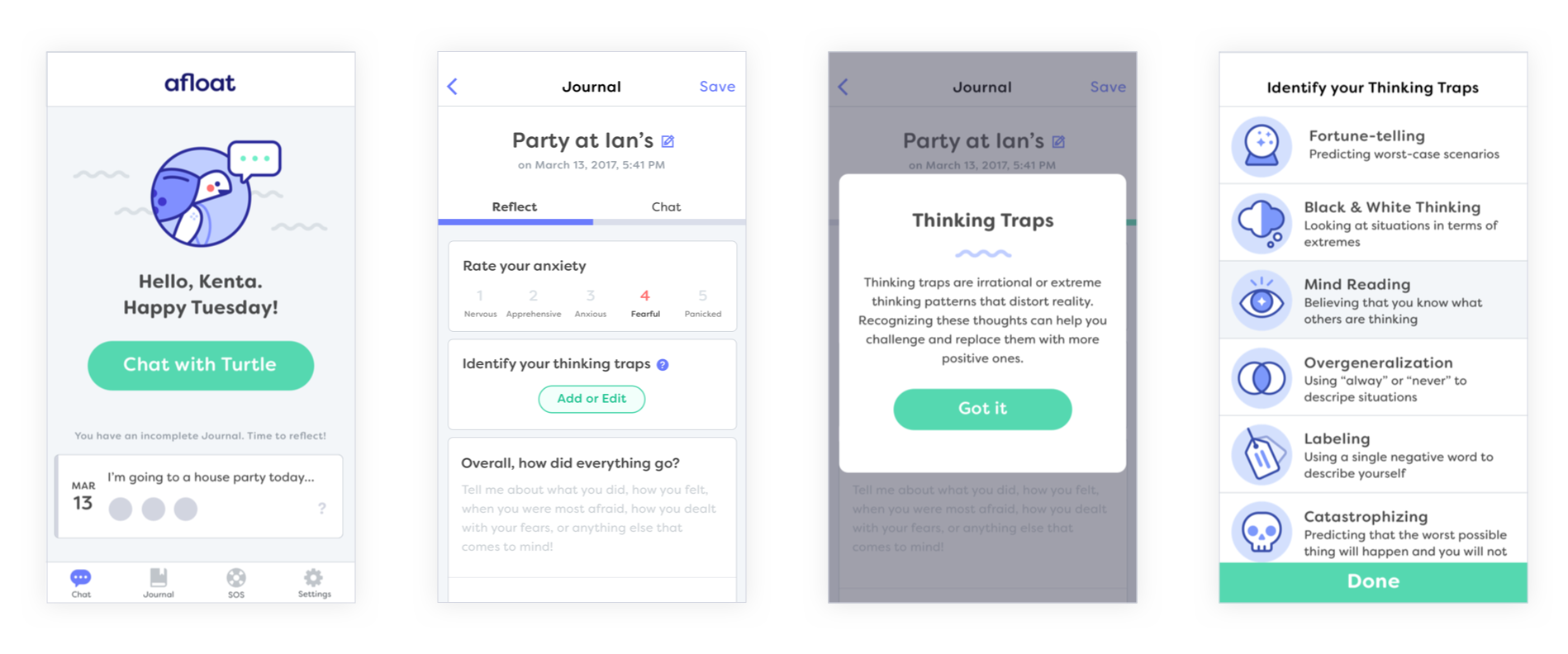 As I worked on fleshing out the MVP, I kept on finding more and more opportunities for improving and expanding the current experience. Aspects I want to explore further include:
Expanding Chats: Users can choose different Chat scripts for different situations or types of social anxiety.
Notifications: Location-based push notifications to reminde users to Reflect on completed Talks when they return home (or any location they consider a safe space)
Goal-keeper: From my interviews, it was very clear people did want to improve. They often set small goals and rewards to lure themselves outside. I believe a feature where users can set and track small goals would be incredibly valuable.
S.O.S tools: Currently, there is only one S.O.S tool, which is the Deep Breathing Exercise. In future iterations, I want to include meditation exercises, guided muscle relaxation exercises, affirmation building exercises, and more.
More testing: Most importantly, I want to put this concept in front of more users of varying levels of social anxiety. To ensure that Afloat can continuously help improve lives, I need to validate my current concepts and investigate new pain points.
I admit, as someone who loves every aspect of visual design, it was hard not to get too focused on the little visuals here and there. I really wanted Afloat to have a light-hearted and playful illustration style with cool and calming colors to bring a delightful experience together.